Below you will find answers to the most frequently asked questions about the Nicojoli collection.
If you have additional questions,
please don't hesitate to get in touch with us at info@nicojoli.com, or tel: +46 733 47 66 91
Product information
The predominant material used in the Nicojoli dress is TENCEL, a hardwood based high-quality fiber with a multitude of excellent properties: machine washable and wrinkle resistant, soft, absorbent, anti-bacterial (keeps you fresh), 100 % biodegradable and produced without the use of pesticides or environmentally hazardous chemicals.



Every detail is delicately thought-out and carefully manufactured: the buttons are massive with the logo engraved, and the size label is placed under the pocket, next to the washing instructions, to avoid scratching your neck.
Description
The dress is manufactured in Portugal.
The dress is two-colored with a base color and with items such as the top part of the lining, the pockets, and the bottom section in a contrasting color. The pockets are roomy enough to hold your golf ball and peg and are designed to allow you to bend forward without the contents falling out.
The length allows for you to move comfortably.
The cut accentuates your back, hip and bust without drawing unnecessary attention to your waistline.
The top part is lined to prevent your bra from getting caught in the dress while swinging.
Size guide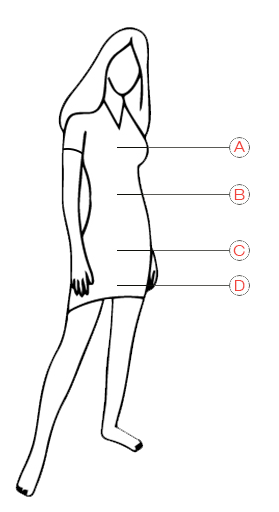 Size guide
Bust (A): where the breast is the widest
Waist (B): where the waist is the smallest
Bottom (C): where the bottom is the widest
Length (D): from collar to the far bottom of the dress
Measurements in centimeters

| Size | Bust (A) | Waist (B) | Bottom (C) | Length (D) |
| --- | --- | --- | --- | --- |
| 34 | 75 | 72 | 90 | 81 |
| 36 | 78 | 74 | 94 | 83 |
| 38 | 82 | 78 | 98 | 85 |
| 40 | 86 | 82 | 100 | 87 |
| 42 | 89 | 86 | 102 | 89 |
Wash and care
Machine wash 40 C / 105 F.
Line dry, or tumble dry gently at low heat for 5 minutes maximum, followed by line drying.
Payment
Bank/Credit card
Card payments are processed by our payment partner Ecster.
Accepted credit cards is VISA and MasterCard
Account terms for installment (only in Sweden)
Genom vårt samarbete med Ecster kan vi erbjuda privatpersoner att teckna ett kontokreditavtal och därmed delbetala dina köp. I kassan väljer du delbetalning och hur många månader du vill dela upp betalningen på. Du kan när som helst välja att betala köpet i sin helhet.
Vid köptillfället görs en kreditprövning som kan innebära att en kreditupplysning tas. En kopia på kreditupplysningen skickas hem till dig. Kreditgivare är Handelsbanken Finans AB (publ). Handelsbanken Finans (HF) är ett registrerat kreditmarknadsbolag som har tillstånd att bedriva verksamheten enligt lagen (2004:297) om bank- och finansieringsrörelse. HF står under Finansinspektionens tillsyn och är registrerat i Bolagsverkets bolagsregister.
Förutsättning för att ansöka om att delbetala är att du är över 18 år och inte har några betalningsanmärkningar.
Om du tidigare delbetalat en vara genom Ecster kan du använda dig av samma konto och behöver inte genomgå en ny kreditupplysning. Om kreditgränsen på kontot är för låg för ditt köp ansöker du enkelt om en höjning.
Invoice (only in Sweden)
Genom vårt samarbete med Ecster kan vi erbjuda privatpersoner att handla mot faktura. En fakturaavgift om 29 kr tillkommer. Betalningsvillkor är 14 dagar.
I kassan väljer du betalningsalternativet faktura. När du anger ditt personnummer gör Ecster en kreditprövning och en kreditupplysning kan komma att tas. Du får besked direkt om din ansökan har godkänts.
Förutsättning för att ansöka om att delbetala är att du är över 18 år och inte har några betalningsanmärkningar.[/tp]
Har du frågor om delbetalning kontakta Ecster kundtjänst.
Phone: +46-8-701 46 67, weekdays 8-20, weekends 10-18
Payment overdue?
Vid försenad eller utebliven betalning utgår påminnelseavgift om f.n. 60 kr samt dröjsmålsränta med 24 % per år. 
If you have any further questions or concerns, you are welcome to contact Ecster. For personal service you can phone Ecster customer service on phone number +46 8 701 46 67.
Shipping
On nicojoli.com free shipping and returns are complimentary within Sweden.
If you decide to return something, the shipping costs are on us.
There is, therefore, no extra charges. You only pay the product price.
Delivery
We will send your order with PostNord. Normal delivery time within Sweden is 2-5 working days.
You will receive a notification via sms when your package is ready to be picked up at your local packet agent.
Parcels not collected
We will charge 300 SEK of parcels not collected, This is for shipping and handling fees.
Payment slip/invoices are sent with 10-day payment terms.
If the payment is not received within that time, the case is handed over for collection.
Personuppgiftspolicy
Vi behandlar dina personuppgifter främst för att fullfölja våra förpliktelser mot dig. Vår utgångspunkt är att inte behandla fler personuppgifter än vad som behövs för detta ändamål, och vi strävar alltid efter att använda de minst integritetskänsliga uppgifterna.
Vi behöver också dina personuppgifter för att ge dig bra service exempelvis vad gäller marknadsföring, uppföljning och information. Vi kan också behöva dina personuppgifter för att uppfylla lagar, t ex när du handlat av oss.
Du har rätt att motsätta dig att vi använder personuppgifter för direktmarknadsföring. I alla utskick kan du enkelt avanmäla dig.
Personuppgiftsansvarig
Nicojoli AB är personuppgiftsansvariga enligt dataskyddsförordningen (EU 2016/679) för den behandling av personuppgifter som sker i bolaget. Detta innebär att vi är ansvariga för hur dina personuppgifter behandlas och att dina rättigheter tas tillvara.
Vilka personuppgifter behandlar vi?
Vi behandlar endast personuppgifter när vi har laglig grund eller ditt samtycke. Vi behandlar inte personuppgifter i annat fall än när de behövs för att fullgöra förpliktelser enligt avtal och lag. Exempel på personuppgifterna vi behandlar kan vara namn, adress, e-postadress och telefonnummer.
Hur får vi tillgång till dina personuppgifter?
Vi försöker i möjligaste mån att inhämta ditt samtycke innan vi börjar behandlar dina personuppgifter. Det gör vi genom att låta dig fylla i uttryckliga samtyckesklausuler i de fall behandlingen grundas på samtycke.
Behandlas dina personuppgifter på ett betryggande sätt
Vi utarbetar rutiner och arbetssätt för att dina personuppgifter ska hanteras på ett säkert sätt. Utgångspunkten är att endast arbetstagare och andra personer inom organisationen som behöver personuppgifterna för att utföra sina arbetsuppgifter ska ha tillgång till dem. Våra säkerhetssystem är utvecklade med din integritet i fokus och skyddar i mycket hög grad mot intrång, förstöring samt andra förändringar som kan innebära en risk för din integritet.
När lämnar vi ut dina personuppgifter?
Vår utgångspunkt är att inte lämna ut dina personuppgifter till tredje part om du inte har samtyckt till det eller om det inte är nödvändigt för att uppfylla våra förpliktelser enligt avtal eller lag. I de fall vi lämnar ut personuppgifter till tredje part upprättar vi sekretessavtal samt säkerställer att personuppgifterna behandlas på ett betryggande sätt.
Credit check
Nicojoli reserves the right to request a credit report in accordance with the Swedish credit information act (SFS 1973:1173) to accept payment by invoice afterwards. This information will not be used for any purpose.
Returns
In your package you will find a form with all the information you need for any replacement or a return. The product must be unused and price tags/labels should be left intact. If you want to change an article, for example to a different size or color, you can do so by simply returning the goods to us and order a new on nicojoli.com. Do not write a request for a change in the return package since the requested goods might be sold out when your package arrives to us. Place the product in its original box and then add the product and the completed return form in its original packaging. Here you can use the outer packaging you received or other suitable packaging.
You have 14 days to return or change from the day you receive the shipment. It is free to return the goods to us. We will pay the shipping.
Return address:
Nicojoli AB
c/o MOAB Gruppen
Ellen Keys Gata 60
129 53 Hägersten
Refunds
As soon as we have verified your return, the money for the returned goods will be refunded to you.
If you made your payment by credit card, the money for the returned goods is to be returned to your bank account.
If you paid with invoice you should contact us first.
When changing to/ordering a new item you must make a new purchase. You can't have a previously made payment in store.
Reclamation
Nicojoli follows the general recommendations of the board.
If you wish to return a product, please contact us at info@nicojoli.com and let us know what is wrong with the product.
Errors must be submitted within a reasonable time from the date you discovered, or ought to have discovered the defect. The warranty for a product expires, in any case, after 3 years. It is only the original customer who has the possibility to complain and claim a return to Nicojoli AB. If a product is purchased second hand, a valid warranty is only via the manufacturer.