Ellinor Haag, one of Nicojoli's ambassadors
I'm so excited to reveal that I've become an ambassador for the fantastic brand Nicojoli. Their dresses are the most comfortable clothes I've ever worn on the golf course, and they are also highly functional outside of the course. The exclusive material breathes and falls amazingly on your body regardless of your shape. The fact that they also managed to give the dresses ingenious pockets makes the dresses complete. I'm really looking forward to wearing my Nicojoli during my competitions this summer – I'm going to feel both extremely comfortable and beautiful!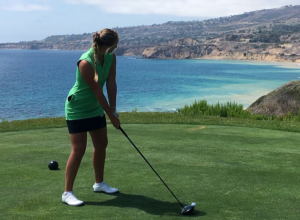 Golfa chict och skönt i sportklänningen från Nicojoli
Nicojoli är det svenska varumärket som fokuserar på kvalité, design och kvinnlighet. När Carina Lindeberg, grundaren av Nicojoli började golfa märkte hon att det fattades snygga golfkläder för kvinnor. Hon ville ha något på sig som hon kunde ha på golfbanan och känna sig snygg i och sedan gå direkt till AW:n eller middagen. Det var så Nicojoli kom till.
Alla klänningar är gjorda i Portugal av materialet tencel som är supermjukt och stretchigt. Tencel är även självtorkande vilket är perfekt om man svettas när man sportar, det torkar snabbt av sig själv. Materialet formar sig även efter kroppen vilket gör att klänningen passar alla olika kroppstyper. Klänningen som kommer i storleksspannet XS till XXL, har även två praktiska fickor nedanför midjan. Det går även att beställa till ett par "cykelbyxor" perfekta att ha under klänningen när man utövar olika sporter också den gjord av tencel.
Den senaste "Classic Collection" lanserades precis och består av två klänningar i mellanblått, en med ärm och en utan. Nicojoli går att använda till alla olika sporter som tennis, powerwalks, på gymet etc. men nu när golfsäsongen snart är här är Nicojoli ett måste på golfbanan besök
www.nicojoli.se för att se hela utbudet.
För utlån, mer information, högupplösta bilder etc. kontakta Hanna Liska PR; daniela@hannaliskapr.se